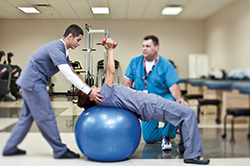 Have you ever wondered who this "kid" helping you with exercises is? Well this "kid" is not a kid, rather a young adult who has either completed or is in the process of completing their education to receive their bachelor's degree. The title that this "kid" holds is Exercise Specialist, meaning that he or she has the knowledge and training to show patients how to perform the exercises that they are given by the therapist safely and correctly. As a patient, if you are experiencing pain or discomfort while performing an exercise just tell an Exercise Specialist, who is always around, and they will help you modify the exercise to where you won't feel the pain or discomfort while still targeting the muscle groups that the exercise intends. If we, exercise specialists, see that a patient is struggling with an exercise because of discomfort, even with modification of the exercise, we will make a note of that for the therapist and move the patient on to the next exercise. We do this because patients come into the clinic to get better, not to regress.
Exercise Specialists are also friendly and we are happy to hold conversations with our patients. There are numerous patients who cannot wait to get into the clinic so they can talk to the exercise specialists about anything and everything – from what they did over the past weekend to the latest movies, pop culture, music, and sports. There are even some patients and exercise specialists who make plans to go to events with each other outside of the clinic. On the other hand, we also know that some people don't really like to talk while they are working out and we respect that.
As I stated earlier, most of our Exercise Specialists have either completed their education to get their bachelor's degree or are in the process of completing their education to receive their bachelor's degree. The position of Exercise Specialist not only provides these "kids" with valuable experience but also gives them a platform to showcase what they have learned in school. Most of our Exercise Specialists want to continue their education in the field of rehabilitation, whether that be as an Occupational Therapist, Physical Therapist, Physical Therapist Assistant, or Occupational Therapist Assistant. Although there are some who have been in the position and have come to the conclusion that the field of rehabilitation is not for them and they would rather go into the medical field to become a Physician's Assistant, Nurse, or a Doctor. And sometimes they prefer to do something totally different, for example joining the police force.
All in all, Exercise Specialists are young adults who want to further their education in the field of rehabilitation. Whether that means entering a Doctorate of Physical Therapy Program or entering medical school to become a doctor. We are also here to help you understand why you are performing certain exercises and to help you perform them safely and correctly.